Called "The Bone™" because its uniquely shaped one-piece molded body resembles a huge dog bone, the creeper's unusual shape allows large, specially designed 5" diameter wheels, yet the rider is still only 1-3" closer to the ground than all other creepers on the market. Most important to users, the large diameter wheels roll easily over cracked pavement, floor drains, grates and other obstacles that can stop an ordinary creeper dead in its tracks.
The rib-reinforced body is molded of a state-of-the art, engineering grade co-polymer to resist the effects of common solvents, so cleaning is quick and easy at the end of the job. The smooth, comfortable one-piece design has no cracks, corners or other pinch points, and the outboard wheel post prevents tipping and flipping. The large diameter wheels make it work, and the patented body makes the large wheels possible!
The Bone is 47" long, 25 1/2" wide, has about 1" ground clearance and weighs in at about 23 pounds. The wheels are warranted for the life of the creeper, and the body carries a limited one-year warranty.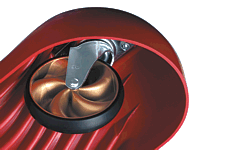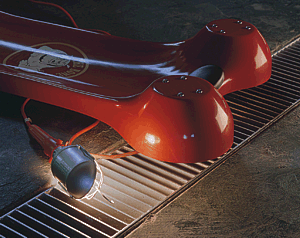 Casters
Rolls over drop light cords, cracks, grates, etc.
5 1/8" diameter 1" wide wheels
Custom designed wheels with soft, grippy TPE tires
130 lb. rating per wheel
1 1/4" ground clearance, lowest creeper on market
4 5/16" bolts fasten s fasten plate - won't break
Body
High strength polypropylene copolymer
Extremely comfortable
300 lb. capacity
Impervious to most solvents
Dirt wipes right off!
Won't tip, flip, or pinch
Specifications
Weight - 23 lbs.
Dimensions 47" Long x 25 1/2" Wide x 6" High
Warranty - lifetime on the wheels, 1 year on the body, excludes being hit or run over